Comments: Use anywhere and as a to-do
The internal editorial comment function has been expanded: In addition to pages, the content itself can now also be commented on.

Furthermore, comments can be used as to-dos. Comments can be marked as "clarified" so that other editors know what still needs to be done.
Comments on templates and elements
From now on it is not only possible to comment on a page, but also on templates and elements. For this purpose, the comment function can be opened directly via the toolbar on a content.
The comment function is also available in the context menu of the content item in the sidebar. All previous comments of the content item and a comment field are displayed in the page information panel in a filtered view
Show comments on content and insert comment
In the view of all comments of the page it is displayed whether a comment belongs to a content element. In this case, a link with the content name is displayed, which highlights the element in the page edit. There is also a filter button, which again allows you to filter out the comments for this content element.
Mark comments as issues to be clarified
If a comment on a content item contains a demand or a work order for another editor, it can be marked as "to be clarified". In pirobase CMS 10.4 this is the default setting, i.e. all newly created comments are created as "comments to be clarified".
Convert to comment to be clarified
The comment is converted and the list of comments is updated accordingly.
Comment to be clarified
If the issue has been satisfactorily addressed, the comment to be clarified is marked as "clarified". Clarified comments are displayed in a separate area.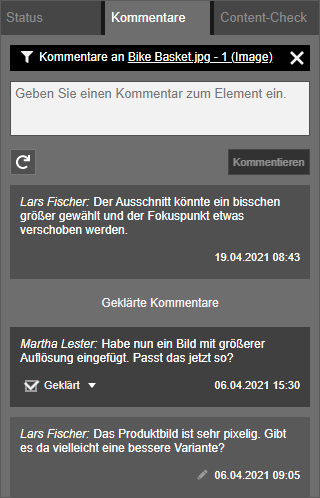 Clarified comments
Clarified comments can be moved back to the normal comments sectionvia Open comment again.
Open comment again
If there is a comment on a page template that requires clarification, this is adopted for the new page. In this way, notes on page design or unfinished to-dos can be taken into account for the new page.